About US
The Permitting Process:
Many companies who develop property or improve existing facilities have come to realize that obtaining the necessary permits and meeting the jurisdictional requirements are becoming more time consuming and complicated. Each Agency has established specific requirements and standards that must be met. Preparing permit packages and negotiating the process need not be an overwhelming experience. Permit Consultants NW is able to bring an intimate knowledge of the process, experience with the jurisdiction and a sound understanding of each project's specific requirement.
Process Development/Follow Through: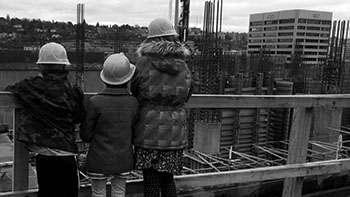 A well-developed project permitting strategy can go a long way to minimize "surprises." The jurisdictions involved may be numerous depending on the nature of the project. They may include Federal, State, County and City. As government strives to become more efficient and cost-conscious, their processes are being modified to reflect these changes.
Permit Consultants NW has an intimate knowledge of jurisdictional permitting processes and inspection requirements, and can assist our clients in preparing a timely, detailed permitting strategy. This strategy is developed as part of the up-front planning for the project, identifying and scheduling all required permits and folding them into the master project schedule.
As a single focal point between the permitting agency and the project team, Permit Consultants NW will free up the project team to concentrate on planning and scheduling activities instead of plan review and permitting. A single focal point ensures that requests for additional information or corrections flow in a smooth and timely fashion between the agency and project team. The correction and revision review can be monitored to prevent costly delays.
Project expectations and schedules will be addressed with the relevant permitting agency early on before plans are submitted. By having a full understanding of the permitting requirements, the response time and predictability of the permitting schedule will be greatly enhanced. Permit Consultants NW will coordinate with the project team to ensure that the permitting agency has complete drawing packages/information to do a thorough plan review and minimize corrections.
Permit Consultants NW will schedule and facilitate meetings that may be required to resolve issues. This will also ensure that the correct team members are assembled, action items are identified, and appropriate follow up started, making the best use of professional time. Requests for information or corrections from the agency can be directed by Permit Consultants NW to the responsible team member ensuring a quick turn around.
Permit Consultants NW will follow up on a regular basis so that the approval process can be kept on track to meet project milestones. Permit Consultants NW can provide advocacy during the project with inspection staff and ensure that all approvals have been obtained for occupancy and closeout.